PARAGLIDING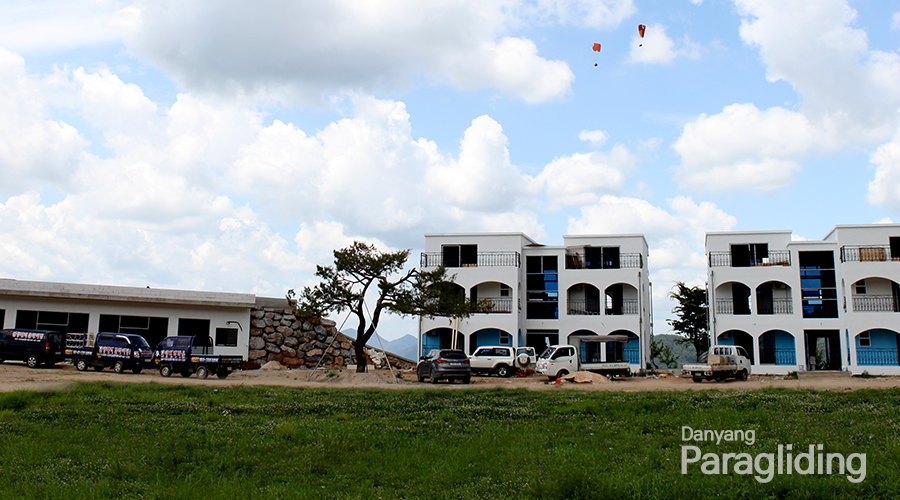 Tanderm Flight
(Tanderm Paragliding)

in Danyang
1. Experience in Danyang with beautiful scenery

- You will meet the best paragliding team over the most peaceful scenery

2. Escape from daily routine life

- Get a chance to escape and feel the freedom of flying through the sky

3. Unforgettable excitement!

- The moment you land on the earth after flight, you will realize that you have just made another unforgettable memory.
*Inquiries / reservation : 043-421-3326, +82)010-9031-3326

* If you have any inquiries, please contact only by e-mail. we'll reply within 24 hours.
dytaracom@naver.com
- The basic course : 110,000\ (not including video)

the basic course is for enjoying the scenery without tension.
(video recording 22,000\)

- Art course : 130,000\ (not including video)

The Art course is fun and thrilling flight. You can enjoy paragliding techniques.
(video recording 22,000\)

- VIP course : 200,000\ (including Filming video)

The VIP course is a basic course+art course+self-controlled flight experience.
The experience time is 15-20 minutes, unlike other courses.
SPECIAL POINTS
1.Selected as the best safety company for MBN boradcaters(safety wear, safety video traning)

2.All In One(paragliding+resort+ATV+observatory all in one place)

3.The only private gliding and landing fied in Korea, parking lot(Over 5,000 pyeong)

4.Safety officer who was previously a fireman

2.All In One(paragliding+resort+ATV+observatory all in one place)

6.TV appearance including 2016 KBS, 2 Days and 1 Night(Episode with Park Bo Gum)

7.Held two-person tandem paragliding tournament

8.Held 2018 International tournament(held international tournament for the first time in Asia as a private take-off run
Experience flight procedure
For a 2 person paragliding flight, an expert pilot and the participant do it as a team, Those who have no knowledge of flight can do it.

#Older than 4 years old, over 14kg can participate!

#However, depending on the weather, the age and weight restrictions for flight may vary slightly.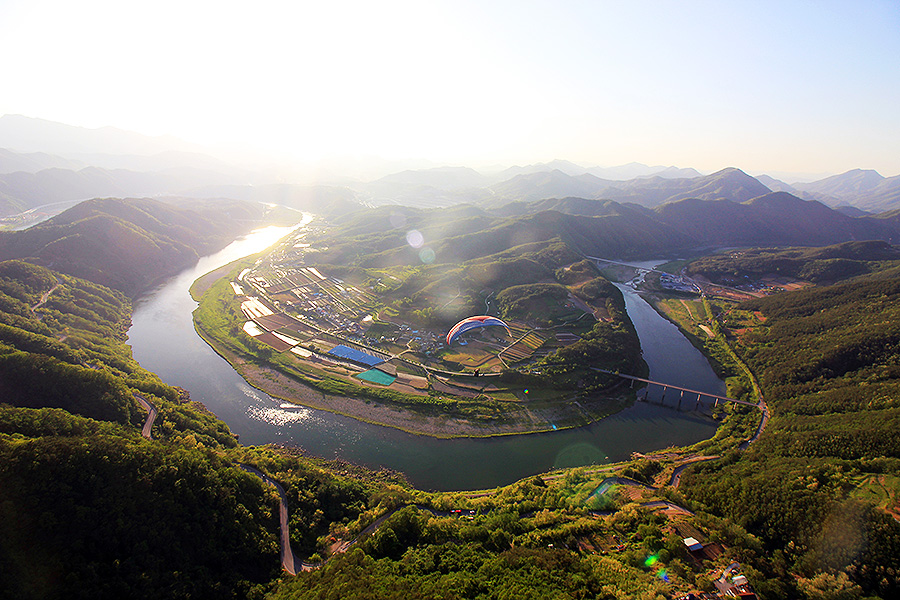 SPECIAL POINTS
1.ATV 30% discount

2.Clay target shooting 10% discount

3.Rafting 10% discount

4.Janhoe Ferry cruise ship 2,000won/person discount

5.Paravillage resort 20% discount

6.Dream Mountain resort 20% discount

7.Danyang partner restaurant 10% discount or complimentary dish

8.Danyang downtown or Gosu Cave free pickup Page 2(Course and fare information)
Address and pick-up
Chungcheongbuk-do, Danyang gun,Gagok-myeon,Dusan-gil 196-52(Sapyeong-ri 246-6)
Pick-up service
Danyang Station 8:50, 10:40, 11:40, 13:05, 15:20, 16:40

Danyang Bus Terminal 9:00, 11:00, 12:00, 13:15, 15:40, 16:50
Glance through pictures
1. Pick-up at Danyang Station and drive to take-off base.

2. Visit the reception desk, fill out the consent form

3. Watch the safety video and go outside with your cell phone and follow the Pilot.

4. Follow a Pilot and use the equipment before flying.

5. Flying

6.After landing, you put the recording file on your mobile phone. back in a car

7. Drop off at DANYANG Staion. or Danyant bus Terminal.
Directions
1. Departure from Seoul

- Bus : Dong Seoul Terminal - Danyang Intercity Bus Terminal - Pick-up service (12 times a day. It takes 2h 30m.)
- Train : Cheongryangri Station - Danyang Station
- Dong Seoul Terminal is very close to Gangbyeon Station (Subway line 2 #214)

2. Departure from Daegu

- Daegu Bukbu Intercity Bus Terminal - Danyang Intercity Bus Terminal - Pick-up service (It takes 3h 50m.)

3. Departure from Busan

- Train : Bujeon, Dongrae, Haeundae Station - Danyang Station (It takes from 4h 38m to 5h 16m)
- Bus : Busan Central Bus Terminal - Danyang Intercity Bus Terminal - Pick-up service (It takes 6 hours.)
Company info

CompanyDanyang Paragliding

AddressSapeong-ri 246-6, Gagok-myeon, Danyang-gun, Chungbuk

Siteparavillage.com

Contact number +82) 043-421-3326 KAKAO TALK>
Nearby Tourist Spots
1. The world of Taiost Hermit you can reach, 'Sangseonam'

- Lots of small rocks that remind you of simple and heartwarming Korean neighbors

2. Casting a clear shadow on the blue waterway, 'Dodamsambong'

- The peak of the world which rises in the middle of flowing blue river, 'Dodamsambong'

3. Another view in the beautiful scenery, 'Stone Gate'

- After passing the observatory of Dodamsambong, you can find a rainbow shaped stone gate.

4. One tortoise fallen in the beautiful scenery, 'Gudambong'

- The rocks on the precipitous cliffs resemble a tortoise.

5. Namcheon Stream where a natural forest is well preserved

- The water is clear and visitors are rare so a natural forest is well preserved.

6. Sadong Valley where the clear and cool water of valley flows

- The water of the valley coming from Dosolbong and Myojeokbong of Sobaek Mt. flows to Jangjeong Village.

7 Gosu Cave

- 1,700m natural cave where you can feel the mystery of ancient times For more information about Danyang, go to
http://english.dy21.net/enlglish/